The Giant's Cauldron
The "La Caldera del Gigante" route, about 17 kilometers long, crosses the towns of Algorfa, Almoradí, Rojales and Benejúzar, linking different natural sites of Vega Baja and enclaves close to the Segura River.
The tour begins in a beautiful Carrasco pine forest with Mediterranean vegetation located in the Montemar urbanization of Algorfa, from where we enter the Natural Protected Area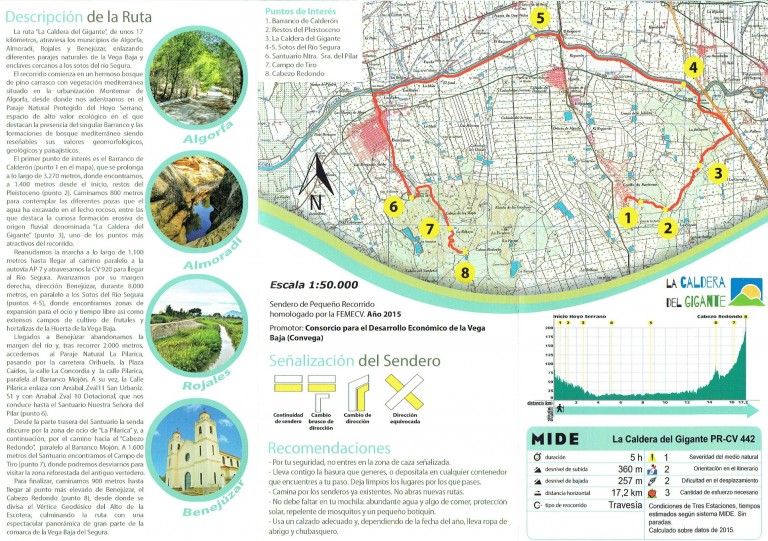 of ​​Hoyo Serrano, a space of high ecological value in which the presence of the singular Barranco and the Formations of Mediterranean forest being reseñablessus geomorphological, geological and landscape values.
The first point of interest is the Barranco de Calderón, which extends along 3,270 meters, where we find, at 1,400 meters from the beginning, remains of the Pleistocene). We walk 800 meters to see the different pools that the water has dug in the rocky bed, among which stands out the curious erosive formation of fluvial origin called "La Caldera del Gigante", one of the most attractive points of the route.
We continue the march along 1,100 meters until we reach the road parallel to the AP-7 motorway and cross the CV 920 to reach the Segura River. We continue along the right bank, direction Benejúzar, for 8,000 meters parallel to the Sotos del Segura River, where we find areas for expansion for leisure and free time as well as extensive fields of fruit and vegetable cultivation in the Huerta de la Vega Baja.
Arrived to Benejúzar we leave the river bank and, after traveling 2,000 meters, we access the Orihuela road, the Plaza Caídos, La Concordia street and Pilarica street, parallel to the Mojón ravine. In turn, Calle Pilarica links with Arrabal Zval 11 San Urbaniz. 51 and with Arval Zval 10 Dotacional, which leads us to the Sanctuary Nuestra Señora del Pilar.
From the back of the Sanctuary the path runs through the leisure area of ​​"La Pilarica" ​​and then on the road to "Cabezo Redondo", parallel to the Mojón Barranco. At 1,600 meters from the Sanctuary we find the Field of Shot, where we can deviate to visit the reforested area of ​​the old landfill.
To finish, we walked 900 meters until reaching the highest point of Benejúzar, Cabezo Redondo, from where you can see the Geodesic Vertex of Alto de la Escotera, culminating the route with a spectacular panoramic of much of the region of the Vega Baja del Safe.
Source: Convega